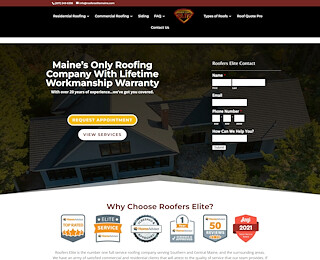 Hire the Top Roofing Contractor in Sanford
One of the biggest obstacles homeowners has when installing, replacing, or repairing a roof is selecting who will do the work. Roofing is a professional and specialized job, and cannot be left to just anyone. In any case, the smartest thing to do is to find Sanford, Maine, roofing contractors top of the line.
By doing a little research, you're sure to find a variety of roofing services in Sanford, ME. Among the different alternatives in the area, the best option is to count on the services we offer at Roofers Elite LLC. It is essential you know more about our services so that you know why we are the leading roofing contractor in Sanford.
Why Choose Roofers Elite LLC?
Recognized Experience
Roofers Elite LLC has been in business for over 20 years. This permanence in operations is thanks to the extraordinary performance of our staff, reflected in a variety of successful projects. Our high level of service has allowed us to become one of the reference companies in the region. Today, when people think of the best roof repair in Maine or the greatest roof installer, they always think of us.
A Company You Can Trust
We are the best roofing company in Sanford, Maine, because we understand how valuable your home is to you. We know how important it is to have a roof of outstanding quality that will protect you and your loved ones. That's why every project we do at Roofers Elite LLC we take ownership of it.
Our team has a high sense of customer value, which is why we avoid shortcuts. At no time do we seek to save time or money. We dedicate all our efforts to each job until we obtain a professional result. Also, we know how difficult it is to have a stranger working indoors. That is why our staff is guided by the highest values of ethics and professionalism.
Unsurpassed Quality
For the Roofers Elite LLC team, there is no result different than perfection. We became the premier Sanford, Maine, roof replacement & installation because of our high performance, and because of the satisfaction of our customers. These results are reflected in the many positive reviews from our distinguished clientage. The high level of satisfaction has even earned us the 50 5-Star Reviews from HomeAdvisor.
To achieve a first-class result, we only use superior quality materials. That is why we have achieved commercial agreements with the most recognized brands in the country. Englert Roofing Metal, CertainTeed, Everlast Roofing Metal, are some of the extraordinary brands that make up the new roofs of our satisfied customers. The confidence in our quality of service is such that we offer our customers a lifetime workmanship warranty, unique in the region.
A One-Stop Solution
By having Roofers Elite LLC, you know all your roofing issues are covered. We provide complete roofing installation, repair, replacement, and maintenance services, regardless of the material being manufactured. We have the most experienced and knowledgeable staff in the area, who are sure to give you world-class service.
Count on the Finest Roofers
It's time for you to enjoy an incredible roof over the years to come, and Roofers Elite LLC is here to make it happen. Let us offer you first-class service, at unbeatable prices. Get the best roof that will protect you for years to come. Contact Roofers Elite LLC for a free quotation.